Torch here, giving you the inside line on Campbell's new Kickin' Buffalo-Style Chicken Soup. Yes fellow Kluckers, you have read this right, everyone's favorite soup-standard is braving the burn — or are they?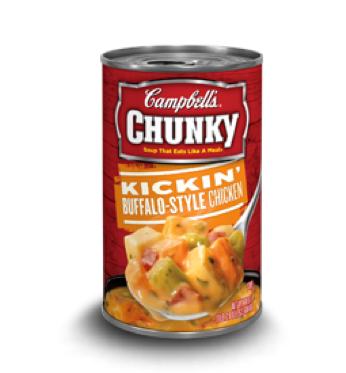 Yes, I admit the afternoon I decided to give this soup a shot was of course another day filled with furious wing-cravings. Sooo, I excitedly set my sights on this new soup as my possible "Quick Wing Fix" for those times that there is no Buffalo Sauce Laden Deep Fried Goodness immediately on-hand. Was it ready to be the fluid doppelganger of the beloved spicy bar food, nooooooo. Was it a soup that was pleasantly consistent with Campbell's safe and comforting line of quality, well-known soups? Most definitely.
As the name states it is a Buffalo-Style" chicken soup. So once served up in a bowl you will notice the very familiar buffalo-style coloring along with a slight flavor nod to the beauty of all that is buffalo. Past these unique styling's, the soup is a pleasant almost-cream of chicken soup with a hearty helping of healthy mixed vegetables and chicken in every bite. As a friend was quick to state, you can't expect a titanic tongue grappling tang and heat that is too much for most. This is everybody's classic standby and it has to be fit fir fans from 5-to-95.
So, your outspoken winged confidant gives this a high-five in keeping with Campbell's comfort-filled line, but cannot in good conscience say that it will be a spicy poultry placebo. No folks, there's still nothing to take the place of the wing as we know it. But, on a cold day, a nice hot bowl of Campbell's Buffalo-Style
Chicken Soup may be just what the doctor ordered, especially if it is Doctor Mom.
Posted by Torch on 11/19/2012