Yes the title may sound like bad take out, but our first update in a few months is coming out for our iphone app.
GEOFENCING!!!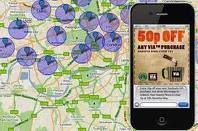 What, praytell, is Geofencing? As you know on your iphone we already geo-locate where each of our restaraunt partners are (as it relates to your position) so we have taken the functionality one step further. If a restaurant wants to send out killer deals for you kluckrs only, and you are near a location, a great deal will be sent your way via notification. These message will be sent respectfully and will not intefere with any part of your life unless the deal is too good to be true. This is really exciting for us and we think you will love it to. We have the ability to create rules that will severly limit the amount of notifications you receive and we are starting conservative first. Only the best deals will be sent your way.
Send your comments to Mark@kluckr.com if you have any ideas on how to do this even better.
Posted by Torch on 05/11/2011